Der dormakaba quattro pluS - knob cylinder
The reversible key is technically very difficult to copy. The coding of the key is not done by drilling, but by a special milling process which disguises the exact position of the coding on the key. The coding is also applied to the edges of the key. This provides additional security against unauthorized key copying.
Features
The system has up to 22 pairs of tumblers per cylinder side. Unlocking security is additionally increased by the use of special tumbler shapes. The block lengths of the tumbler pairs are always the same - this means maximum scanning security. Each of the tumbler pairs can be varied in several stages per cylinder side. The four rows of pins arranged radially to the cylinder center are not subject to any mutual variation restrictions.
Security
Even in the locking system, the dormakaba quattro pluS modular system guarantees no loss of security compared to the single-locking cylinder by dispensing with multiple subdivisions of the tumblers.
Increased drilling protection BS2 (VdS B certification):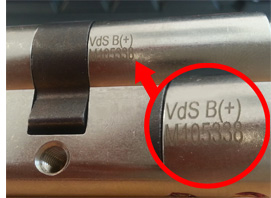 The dormakaba quattro pluS is tested according to EN 1303 locking security class 6 as standard. Locking security class 6 provides information on the high corrosion resistance at a temperature requirement of -20° C to +80° C.
When selecting the increased drilling protection BS2, the locking cylinder is automatically certified according to VdS class B(+). With the increased drilling protection BS2, the cylinder core (insert) is additionally protected by additional hard metal tumblers or vertically inserted hard metal longitudinal pins. This virtually eliminates the possibility of drilling into the cylinder core. The certification is engraved on the locking cylinder (see adjacent picture).
The locking cylinders, which are certified to VdS Class B(+), have medium security against burglary and high resistance to attacks with locking tools. They do not have an integrated pull protection and are therefore to be used together with a burglar-resistant door fitting with pull protection.
As soon as the locking cylinder is installed together with a door fitting with pull protection, it corresponds to attack resistance class 2, which withstands a drilling time of maximum 5 minutes.
The new clip colours of the Smartkey reversible key from dormakaba

Select the colour for your keys in the upper area

blue

yellow

green

light blue

light green

light red

light purple

orange

red

black

violet

whithe
---
All our locking cylinders are supplied with a security card. This entitles you to have duplicate keys made. You can have duplicate keys made by us or by any authorized specialist store. Please note that duplicate keys - depending on the manufacturer - can cost many times more than the initial order.
Our locking cylinders are exclusively new goods, which can be ordered in any quantity. With our locking cylinders, you can also order additional locking cylinders later to match your order. For example, you can also order a single locking cylinder which you can combine with another locking cylinder of the same cylinder series at a later date, so that you can then open and lock both locking cylinders with just one set of keys (keyed alike). You can expand this as you wish with double locking cylinders, semi-locking cylinders or knob cylinders from the same series. Therefore, when ordering, make sure that the locking cylinders are not remnants or insolvency assets.
You can also reorder the ordered locking cylinders from us.
Your customer support team
This Product was added to our catalogue on 24/02/2015.