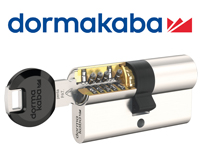 The premium model from dormakaba
dormakaba penta is an extremely powerful locking system that is suitable for complex locking systems as well as for individual and keyed alike locking systems of the highest standards. Patent protection until 2033.


Please note that the delivery times apply only to the standard colorings. If you require other colorings of the locking cylinders, the delivery time is approx. 20 working days.