The dormakaba penta - profile double cylinder
The penta model
The specialist from dormakaba and meets the highest requirements in terms of security and quality. All locking cylinders of this top model contain an additional steel insert in the cylinder housing for maximum protection against manipulation and with its 5 pin rows it is one of the most secure on the market.

Features
Maximum security due to the five rows of tumblers arranged in a star shape with up to 22 simultaneously usable pin positions as well as the patented arrangement of the tumblers in relation to the key cuttings give this system extreme performance. The use of special tumbler shapes additionally increases the unlocking security. The block lengths of the tumbler pairs are always the same - this means maximum scanning security. All pairs of tumblers can be varied in several stages and are not subject to any mutual variation restrictions. All tumblers are made of hardened steel and chemically nickel-plated. In addition, the high safety standard of this system can be seen from the numerous bores and milled holes with a wide range of depths and inclinations.
Security
Even in the locking system, the dormakaba penta modular system guarantees no loss of security compared to the single-locking cylinder by dispensing with multiple subdivisions of the tumblers.
Increased drilling protection BS2 (VdS B certification):
The dormakaba penta is tested according to EN 1303 locking security class 6 as standard. Locking security class 6 provides information about the high corrosion resistance at a temperature requirement of -20° C to +80° C.
When selecting the increased drilling protection BS2, the locking cylinder is automatically certified according to VdS class B(+). With the increased drilling protection BS2, the cylinder core (insert) is additionally protected by additional hard metal tumblers or vertically inserted hard metal longitudinal pins. This virtually eliminates the possibility of drilling into the cylinder core. The certification is engraved on the locking cylinder (see adjacent picture).
The locking cylinders, which are certified to VdS Class B(+), have medium security against burglary and high resistance to attacks with locking tools. They do not have an integrated pull protection and are therefore to be used together with a burglar-resistant door fitting with pull protection.
As soon as the locking cylinder is installed together with a door fitting with pull protection, it corresponds to attack resistance class 2, which withstands a drilling time of maximum 5 minutes.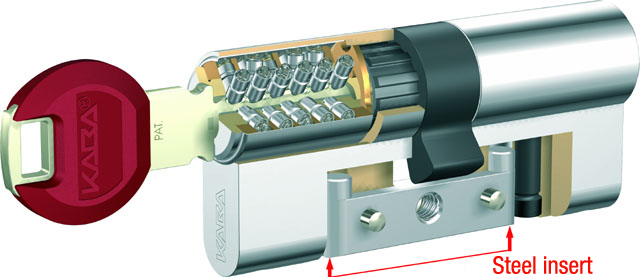 The reversible key is technically very difficult to copy. The coding of the key is not done by drilling, but by a special milling process that disguises the exact position of the coding on the key. The coding is also applied to the edges of the key. This provides additional security against unauthorized key copying.
---
All our locking cylinders are supplied with a security card. This entitles you to have duplicate keys made. You can have duplicate keys made by us or by any authorized specialist store. Please note that duplicate keys - depending on the manufacturer - can cost many times more than the initial order.
Our locking cylinders are exclusively new goods, which can be ordered in any quantity. With our locking cylinders, you can also order additional locking cylinders later to match your order. For example, you can also order a single locking cylinder which you can combine with another locking cylinder of the same cylinder series at a later date, so that you can then open and lock both locking cylinders with just one set of keys (keyed alike). You can expand this as you wish with double locking cylinders, semi-locking cylinders or knob cylinders from the same series. Therefore, when ordering, make sure that the locking cylinders are not remnants or insolvency assets.
You can also reorder the ordered locking cylinders from us.
Your customer support team
This Product was added to our catalogue on 24/02/2015.