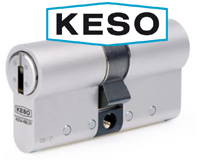 KESO 8000 Omega with active copy protection, patented until 2034
All locking cylinders of the KESO 8000 Omega series can be combined with each other in the same way.

Please note that the delivery times only apply to the standard colours. The articles may have different delivery times. If you require other colourings of the locking cylinders, the delivery time is approx. 20 working days.
Likewise, the delivery time is approx. 25 working days if the increased corrosion protection is selected.