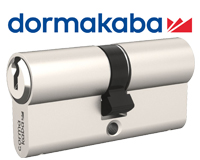 GEGE pExtra pluS - the new mechanical security with convincing technology from dormakaba.
Gege pExtra Plus is a new mechanical locking system equipped with a sophisticated copy protection. This is a branching groove milled at an angle into the key profile with a special cutter, which prevents break-ins and manipulation attempts - such as the Rapido impact opening method or picking Methods.
Locking systems for private houses, public buildings or office Buildings.


Please note that the delivery times only apply to one-sided 60 mm lengths and the standard colourings. If you require longer lengths or other colourings of the locking cylinders, the delivery time is approx. 30 working days.