The GEGE pextra plus padlock from dormakaba

Each lock cylinder is supplied with 2 keys as standard.
The housing and the housing core are made of brass, chrome-plated.
The shackle is made of hardened steel
without spring-loaded snap shackle.

The padlock is the ideal complement for keyed alike lock cylinders - all with one key.

When selecting, please note the dimensions in the table. The padlock is available in 2 different sizes. Based on the shackle height:
| | | | | |
| --- | --- | --- | --- | --- |
| Shackle height - Dimension B | Dimension A | Dimension C | Dimension D | Version |
| Shackle height 30 mm | 45 mm | 24 mm | 8 mm | Housing 45 mm |
| Shackle height 70 mm | 45 mm | 24 mm | 8 mm | Housing 45 mm |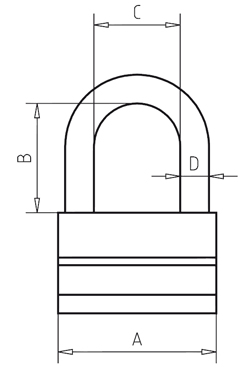 The Gege security cylinder from dormakaba with "extras" for more security. The patented branch groove cannot be copied with conventional key cutting machines such as Bosch Easy Entry. The optional interrogation pin detects whether an illegal key copy is being inserted into the cylinder. If the branch groove on the key is missing, the interrogation pin engages in the key profile and allows the cylinder to turn in one direction only.
An overview of the features:
Patent protected until 2032
Conforms to EN 1303 locking security class 4, and with the interrogation pin to locking security class 6
EN 1303 attack resistance class 2 (optional)
The interrogation pin prevents unlocking with illegal key copies
The patented centring pin prevents opening by the "Rapido" or impact method
Scanning protection against picking by overlapping key profile and special tumblers
Drilling protection through additional steel security elements in the cylinder and in the cylinder core
Increased perm capacity with lateral locking Elements
---
All our locking cylinders are supplied with a security card. This entitles you to have duplicate keys made. You can have duplicate keys made by us or at any authorised specialist shop. Please note that duplicate keys - depending on the manufacturer - can cost many times more than the initial order.

Our locking cylinders are exclusively new goods that can be ordered in any quantity. With our locking cylinders, you can also order additional locking cylinders later to match your order. For example, you can also order a single locking cylinder which you can combine with another locking cylinder from the same cylinder series at a later date, so that you can then open and lock both locking cylinders with just one set of keys (keyed alike). You can expand this as you wish with double locking cylinders, semi-locking cylinders or knob cylinders of the same series. Therefore, when ordering, make sure that the locking cylinders are not remnants or insolvency assets.

You can also reorder the ordered locking cylinders from us.

Your customer support team
This Product was added to our catalogue on 10/12/2019.