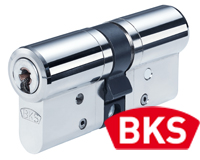 The new BKS janus 46 series
The new locking cylinder BKS Janus 46. The successor of the test winner BKS Janus 45 has a patent until 2031 in addition to the new design of the drill recess key. In the 3rd generation janus, security has been increased even further. The BKS Janus 46 cylinders are ideally suited for commercial properties, complex locking systems or the home.

Please note that the delivery times only apply to the standard colourings. If you would like other colourings of the locking cylinders, the delivery time is approx. 15 working days.