The BKS Knob cylinder series 46 janus
Brass nickel-plated version
The new BKS janus 46 is protected as standard against the break-open method of impact picking. The cylinder also impresses with its reversible key for user-friendly key guidance. The new drill recess key is designed to offer the highest level of copy protection. Even with the new 3D printing process, it is not possible to copy the key.
Drilling and pulling protection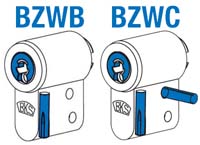 Standard with locking devices: Drilling and pulling protection BZWB (outside with core plate made of hardened steel and casing reinforcement); possible as an option for locking Systems..
Optional, certified protection of the outer cylinder against pulling out and drilling (BZWC; outside with core disc made of hardened steel, casing reinforcement and casing securing pin). Installation is carried out by removing the outer door fitting.
VdS approval
Profile double cylinders, profile half cylinders and profile knob cylinders with VdS certification are available on request, including the impact picking test section.
---
Please note the following special feature if the BKS janus 46 is to be used with an externally closed door Fitting: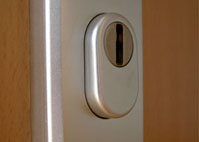 Under certain circumstances, the BKS janus 46 cannot be used with door fittings with anti-drilling protection or rosettes that do not allow any tolerance in length.

The cylinder head of the BKS janus 46 protrudes approx. 2 millimetres further. Read here about the special features of a fixed door fitting with anti-drilling protection that does not allow any tolerance in the length.

This problem does not occur if the external fitting is open, i.e. you can insert the locking cylinder into the door lock from the outside as well as from the inside. However, the cylinder head still protrudes from the door lock by approx. another 2 millimetres.
---

All our locking cylinders are supplied with a security card. This entitles you to have duplicate keys made. You can have duplicate keys made by us or at any authorised specialist shop. Please note that duplicate keys - depending on the manufacturer - can cost many times more than the initial order.
Please note that the lock cylinders can be up to one millimetre longer. Especially doors without fittings (doors that are flat on the outside) or door fittings that have a rigid anti-drilling protection should pay attention to this. Preferably, lock cylinders with an overall length of 27 or 28 millimetres on the outside are used for this purpose.
Our locking cylinders are exclusively new goods that can be ordered in any quantity. With our locking cylinders, you can also order additional locking cylinders at a later date to match your order. For example, you can also order a single locking cylinder which you can combine with another locking cylinder from the same cylinder series at a later date, so that you can then open and lock both locking cylinders with just one set of keys (keyed alike). You can expand this as you wish with double locking cylinders, semi-locking cylinders or knob cylinders of the same series. Therefore, when ordering, make sure that the locking cylinders are not remnants or insolvency assets.
You can also reorder the ordered locking cylinders from us.
Your profiel-cilinder.nl team
This Product was added to our catalogue on 24/02/2015.