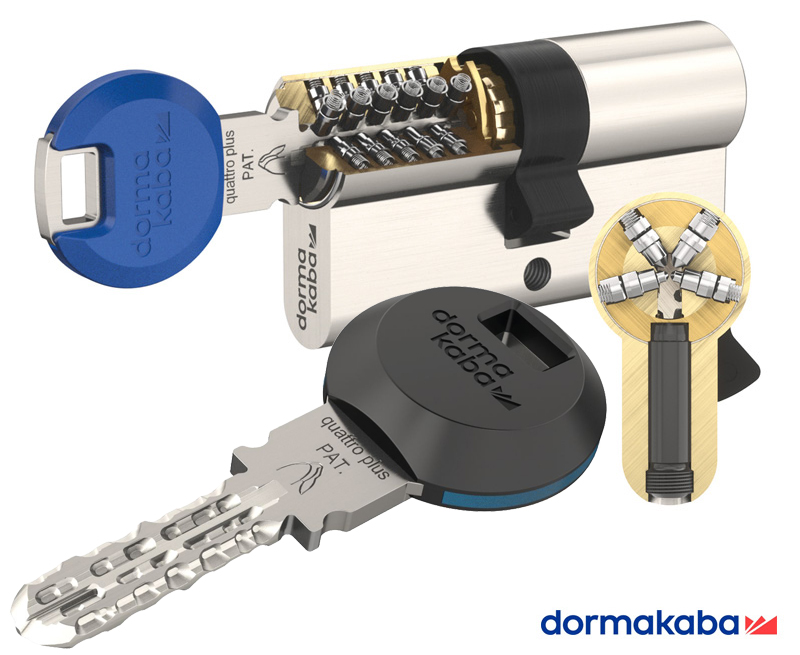 The patented reversible key system
dormakaba quattro pluS
- patent period until 2033 - is suitable for individual locking cylinders, keyed alike locking cylinders as well as locking systems and meets the highest demands.
The professional from dormakaba when it comes to the highest security requirements. Offers optimum security with the additional fourth row of pins.
4-fold security.Features
The system has up to 22 pairs of tumblers per cylinder side.
side. Unlocking security is additionally increased by using special tumbler shapes. The block lengths of the tumbler pairs are always the same - this means maximum scanning security. Each of the tumbler pairs can be
can be varied in several stages for each side of the cylinder. The four rows of pins arranged radially to the cylinder center are not subject to any mutual variation restrictions.
dormakaba quattro pluS locking cylinders
protect against the most common opening methods, e.g. opening locking cylinders without leaving marks (impact method).
The Kaba quattro pluS is certified according to EN 1303 locking security class 6 and is secure against manipulation methods.
Duplicate keys are only manufactured at the factory on presentation of the dormakaba security card in the appropriate security version.

Please note that the delivery times only apply to the standard colorings. If you require other colorings of the locking cylinders, the delivery time will be considerably longer.
If a specific date is required, please contact us in advance.